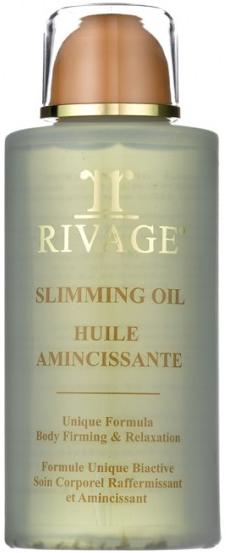 Unique formula containing special blend of Ginger Extracts, Guarana Seeds to help eliminate undesired fatty parts to become and remain slim. Dead Sea Minerals & Horsetail Extracts added for firming and tightening your body. Day after day, the dimpled appearance is diminished, curves are redefined and body is finally relaxed.
Ηοw to Use:
Apply Rivage Slimming Oil three times a week on target body parts (thighs, buttocks, hips, stomach & arms) using larger circular movements for 15 min. For better results, you can use Rivage Body Mud several times a week on same target body parts.
Active ingredients:
1)Dead Sea Salt
2)Ginger
3)Guarana
4)Centella Asiatica
5)Horsetail
Revitalizing Body Scrub (250 ml) 30 US$

RIVAGE experts have created a line of skin and body care products with the rarest and most sought after ingredients from the world of nature.
Revitalizing minerals from the Dead Sea, exotic herbals, floral nectars and other lush botanicals come together to create an exquisite experience for the body and mind. Only the healing hands of nature could caress your skin with such delicate beauty.

An intense unique formula designed carefully from natural castor oil with the most curative Dead Sea Crystals–instant Carnalite, works together to mildly scrub your body skin. Natural Dead Sea Minerals and Vitamin E to rejuvenate and enhance cell metabolism and blood circulation, while removing dead skin cells and impurities. Leaves your body skin healthier, smoother with youthful-looking.

Direction of use:
Clean your body perfectly using RIVAGE Shower Gel. Apply Revitalizing body scrub to wet skin all over body. Massage gently by circular motion. Rinse by warm water using RIVAGE Shower Gel. Repeat above process once a week to maintain healthy skin.

Warning:
For external use only. Do not apply on wounds or scratched skin. Keep out of the reach of children.

Super Fine Salt Regenerating (250 g) 3 US$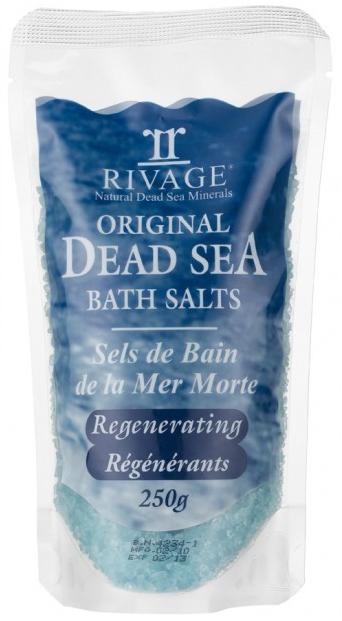 Nourishes, relaxes and enhances sense of your well-being. The Regenerating herbal oil activates your natural skin renewal and nourishes your skin with vital minerals and plant extracts. It helps calm your senses and relives tired muscles.
How to Use:
Add Dead Sea Salts to a bath full of warm water (about 37°C) Relax in the bath for 15-20 min. Then gently rinse your body with warm water. Follow with Rivage Body lotion.
Alternative Use:
This Dead Sea Salt is rich in miraculous minerals that naturally exfoliate your skin. Mix Super Fine Dead Sea Salts with Rivage's Massage Oil or Natural Dead Sea Concentrated Water and create a unique body scrub paste. Apply this unique body scrub paste to wet skin and massage gently by circular motion Let the Natural Dead Sea Minerals to rejuvenate the cells, stimulate the blood circulation while removing dead skin cells and impurities. Leaves your body skin healthier, smoother with youthful- looking.
Active Ingredients:
1)Dead Sea Salt
2)Blend of Herbs
Mini Beauty Care Kit 15.5 US$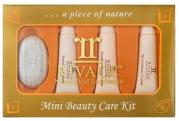 List of products
- Revitalizing Night Cream 20 ml
- Facial Mud Mask 20 ml
- Mineral Soap 30 g
- Emolliant Hand Cream 20 ml
Facial Mud Mask (200 ml) 8.5 US$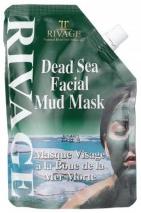 Purifying Dead Sea facial mud mask formulated to firm and boost cell renewal while hydrates and rejuvenates dull skin by lifting impurities and gently pulling out toxins from the skin. Leaves your skin fresh, supple with healthy looking complexion.
Bath Salts Collections (1.25 kg) 11.5 US$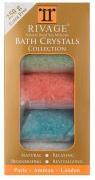 List of products
- Original Dead Sea Bath Salts Natural 250 g
- Original Dead Sea Bath Salts Relaxing 250 g
- Original Dead Sea Bath Salts Regenerating 250 g
- Original Dead Sea Bath Salts Revitalizing 250 g
+ Free 250 g