___________________


___________________

___________________

___________________

___________________
___________________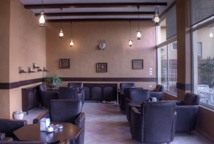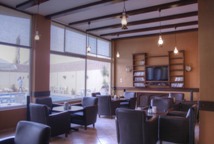 The Roof Restaurant
The unique roof restaurant "110 capacity" with exceptional views of the Madaba city, serves open buffet breakfast and open buffet dinner "local food & barbeque".
Poolside Restaurant & Bar
Our poolside restaurant & bar "Rawsan" serves meals and snacks, teas and DALLMAYR Coffee (Espresso & Cappuccino) and you can try smoking "Shisha" at the pool terrace. Also the bar serves beer, local wines & Araq. In the same time at the bar you can choose a movie from the hotel's DVD library, free of charge and enjoy our home theater with its large LCD screen. The Bar is decorated with fossils collected from the area.
Breakfast buffet including:
Tea, coffee, milk (cold & hot) and 2 kind of juice.

Seasonal Fruit Salad.

Cheese, Eggs (boiled & scramble), butter & 7 kinds of local jams.

Hot beans with tomato sauce

Sausage cooked with vegetables

Pancake with syrup date.

Cornflakes

Hummus.

Yogurt.

Green olives, tomato & cucumber.

2 kind of local pastures (thyme and date).

Pita bread.


Read our Blog Mariam Hotel Recipes page